Published on April 8, 2010
ALL ART JOURNAL LOVE CREATED BY LISA HOFFMAN
On Valentine's Day I launched Art Journal LOVE Letters into this great big Beautiful World. This was something I had been working on for quite awhile..and it was exciting to venture into the new world of online workshops for me. Honestly, I wasn't sure who would sign up, and was pleasantly surprised when 70 Lovelies capped the registration—most, people I've never met or knew before.
I had no idea also, that teaching an online workshop would be so powerful in my own life. I put my heart into this workshop and like the saying goes, what I put out was returned to me. I was blown away by the excitement, spirit, and pure bravery so many Lovelies were sharing with me. One of those Lovelies, that I was blessed to meet through this workshop, was
Lisa Hofmann
, who writes one of the most heart-felt, beautifully exquisite blogs called
Dandelion Seeds and Dreams
.
The work Lisa created in this workshop was full of curiosity and life….I absolutely fell in LOVE with each page her paintbrush touched and her openness to share her journey.
I am deeply touched by the kind words Lisa shares about her experience with Art Journal LOVE Letters here……
I signed up for
Art Journal
Love Letters because I wanted to commit to a regular practice of
art journaling
and I was looking for some new techniques and ideas to help get me started. What I wasn't expecting was to fall madly, deeply in love with my art journal and the practice of journaling.

This course is so much more than a "how to" – although you are given fantastic lessons on techniques. The real gift of this course is Connie. Inspiring and generous as a teacher, she is equally inspiring and inspired as an artist sharing her process. Through her enthusiasm and guidance I felt safe to engage with my journal in a deep and personal way. In addition to her amazing videos, you are given tons of support through the follow up letters, comment links and in the flickr photo pool. I have taken a number of online courses and I can say, this course by far gave me the most "hand ons" feedback and support. I received not only practical, technical advice but more importantly, I received encouragement to explore my own voice and style in journaling in a very safe and nurturing environment.
If you are interesting in beginning or
exploring art journaling
or would like to deepen your relationship with your journal, then this is the course for you. If you want to infuse your journal with the juice of your life, digging deep within and letting it all spill out onto the page, then this is the course for you. If you want a practice that offers playful respite from the grind of daily life, or a way to uncover the magic and gifts present in your world, then this is the course for you. If you want to discover the rich insights possible through art, then this is the course for you.
J
ust be prepared to be one hundred percent enthused, engaged and in love with your journal.
And excited by the future of your relationship together 🙂

Can you tell I am a little in love?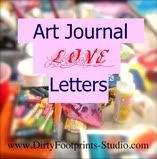 Art Journal LOVE Letters is a completely self-paced journey–while I will be there with you each step of the way to answer your questions and celebrate the LOVE with you!!
Go HERE for more information and to register.
Join The Paint Wisdom Newsletter!
My weekly newsletter is filled with studio updates,
announcements,& short musings intended to nourish your Artist Soul.