30 Journals 30 Days: SARAH WHITMIRE
Published on July 30, 2010
How long have you been Art Journaling?
I have been journaling since I got my very first diary as a little girl but didn't start officially Art Journaling until the summer of 2008.
How has Art Journaling impacted, changed, or enhanced your life?
Wow, it would be easier to ask "How has it NOT impacted my life?" LOL!  Art Journaling, and specifically Soul Journaling had allowed me to meet so many wonderful people and has opened up an entire new online world to me. It has changed the course of my whole career and helped me through some of the darkest times in my life, lifting me up and allowing me a safe place to express all of my hopes, dreams, and fears.
What are a few of your favorite Art Journaling materials to use?
I use tons of random things in my journals from everyday trash to fancy scrap booking materials, and I really like the contrast that those two elements bring. I am also a huge fan of Gesso! I buy it in giant tubs. I LOVE the texture and depth it gives my paper.
Who are some of your favorite Art Journalers?
My students! They are so creative and inspirational. Many of these women are just picking up a paint brush for the first time or are just starting to blossom into the artist of their dreams. It is such an amazing transformation to watch. Their art is raw and emotional and not yet influenced by outside sources or critics. Simply amazing!
What kind words of encouragement would you say to an Art Journal newbie?
Play. Experiment. Play some more. Don't be afraid to make ugly journal pages. And you're not alone! Join an online journaling community such as Soul Journaling to meet fellow journalers and get inspiration.
Where can we contact you…give us some link LOVE!
Caspiana is my gallery website of all of my mixed-media artwork and Soul Journaling is my Art Journaling website with links to our community, fun prompts, online classes, and more.
Videos Starring Sarah:
Short Bio:
My name is Sarah Whitmire and I am a mixed-media artist and instructor. I enjoy working in many mediums, including but not limited to encaustics, collage and acrylics. Though I live and work in a smallish town in northern Florida, I enjoy using the internet to reach a much larger audience. I currently teach online workshops through
Joggles
as well as through my own blog and Yahoo groups. I am also a Design Team member for
Alpha Stamps
which means I get to play with their awesome products on a daily basis.
My proudest achievement to date is the creation and founding of Soul Journaling, a series of guided mixed-media visual journaling workshops that has inspired a growing community of people from all walks of life and from all over the globe to come together through art and self-expression. My work has been featured in some of my favorite magazines; Somerset Studio, Somerset Studio Gallery, Somerset Home, Cloth Paper Scissors and Rubber Stamp Madness, and I am a member of several organizations, including the Gainesville Fine Art Association, the North Florida Craft Revolution and the Florida Etsy Street Team.
_______________________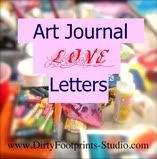 Art Journal LOVE Letters is on sale for $24.99 the entire month of July!Go
HERE
to register and join Art Journal LOVE's 1 year anniversary party!
If you would like to be included in the 30 JOURNALS 30 DAYS project please go HERE for more information!!
Join The Paint Wisdom Newsletter!
My weekly newsletter is filled with studio updates,
announcements,& short musings intended to nourish your Artist Soul.