Big LOVE For the Mamas!!!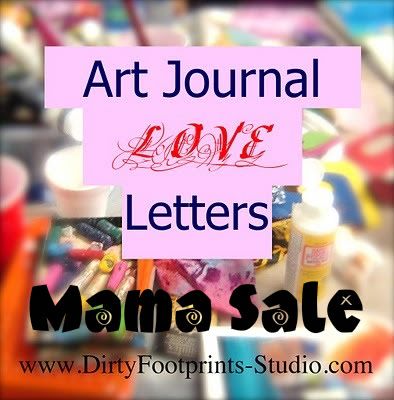 In honor of Mother's Day–and in celebration of all the awesome, Creative Juicy Mamas that are readers of Dirty Footprints Studio–I am offering a big Mama SALE on my totally fabulouso online workshop:
Art Journal LOVE Letters
Till midnight (PST), Sunday, May 9th you can sign up for Art Journal LOVE Letters for a super cheap price of $25.00
SORRY SALE IS OVER.
GO HERE TO REGISTER AT THE REGULAR PRICE OF $32.40.


That is a HUGE savings from the original price of $32.40.
Art Journal LOVE Letters is more then an online workshop….it is an online LOVE affair where you will fall madly, passionately, and deeply in LOVE with your Art Journal through a foundation of techniques, inspiring prompts, LOVE struck musings on the beauty of Art Journaling, and tons of warm, encouraging, informative feedback by me–Connie Hozvicka–a Licensed Art teacher with a BA in Painting and Art History and over 15 years of experience of teaching individuals of all abitlities, backgrounds, skill levels, and ages.
Here's what Jamie Ridler had to say about her LOVE affair with Art Journal LOVE Letters…
http://vimeo.com/moogaloop.swf?clip_id=10811385&server=vimeo.com&show_title=1&show_byline=1&show_portrait=0&color=&fullscreen=1
I Heart Art Journal Love Letters from Jamie Ridler on Vimeo.
To learn more please go HERE.
But this Big Mama sale is only available by pressing the above pay button.
Happy Mother's Day!!!
Look forward to sharing the LOVE with you!
Join The Paint Wisdom Newsletter!
My weekly newsletter is filled with studio updates,
announcements,& short musings intended to nourish your Artist Soul.