30 Journals 30 Days: EMMA PEABODY
Published on July 4, 2010
How long have you been Art Journaling?
I have two Art Journaling Anniversaries. One is December 2009, when I began a collaborative art journal project with 3 friends. The second is February 2010 when I joined Art Journal Love Letters! AJLL is when I first went all out with paint, layering, and all that goodness. So, I have not been art journaling long!
How has Art Journaling impacted, changed, or enhanced your life?
Art Journaling (starting with Art Journal LOVE Letters) has made me braver in art. I can now go to a page or canvas and cover everything with color and then do more and more, recklessly! It has helped me see my art as always in-progress. I can always add or take away.
I also find myself looking at a lot of little booklets, junk mail, etc. and thinking: I could paint over that and make it into an art journal!
What are a few of your favorite Art Journaling materials to use?
I bet a lot of people will give this answer: gel medium. I had never used it before Art Journal LOVE Letters and it really is great. I also now like to use tissue paper in some of my painted pieces. In general, art journaling has made me even more likely to use anything within reach in my art. You start to see the way all kinds of objects could be used to create texture, for instance. I love that.
Who are some of your favorite Art Journalers?
Besides Connie, of course, some of my favorites are Lisa Hofmann, Milliande, and Tammy.
What
kind words of encouragement
would you say to an Art Journal newbie?
Dive right in. Don't worry about where your journal page is going. Just start making colors and shapes and you'll soon find your way. And if you can share your art with other people excited about creativity, you'll feed off each others' energy and things will get wild.
Where can we contact you…give us some link LOVE!
Hey, stop by my blog:
TreehouseJukebox
. I'd love to meet you!
Short Bio:
Emma Peabody is an artist, musician, and subversive in the fine town of Phoenixville, Pennsylvania. She is writing this in the 3rd person, while sitting on the floor and listening to psytrance music.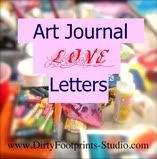 Art Journal LOVE Letters is on sale for $24.99 the entire month of July!Go HERE to register and join Art Journal LOVE's 1 year anniversary party!
Join The Paint Wisdom Newsletter!
My weekly newsletter is filled with studio updates,
announcements,& short musings intended to nourish your Artist Soul.