30 Journals 30 Days: NESSA
Published on July 8, 2010
How long have you been Art Journaling?
I've been into art journaling for just a few months…I began scrapbooking in 2005 and even if I Adore scrapbooking so much, I'm much more into art journaling now…. As a teenager, I wrote my personal diary and now that I'm an adult I don't feel the need to write a diary but still a strong need to express my thoughts….I feel like an artist, I have a need to put my fingers in the gesso and acrylic paint…
Art journaling has changed my life ….
How has Art Journaling impacted, changed, or enhanced your life?
Art journaling has a big place in my life …It's like therapy, I express all my feelings through my journals.
When I feel sad or happy, I need to express it by creating a page. Art journaling has an aim for me..That's really different than scrapbooking where I only decorate a page with a picture I loved.
Art is my therapy….
Even if my mother tongue is French, I often write in english in my journals…I don't know why, I think it's easier for me to express my feelings in English.
What are your favorite Art Journaling materials to use?
Acrylic paint and gesso and I have a big collection of pens (lots of colors and very useful)
Who are some of your favorite Art Journalers?
Dina Wackley http://dinastamps.typepad.com/ponderings/
Samantha Kira : http://www.journalgirl.com
Traci Bautista : kollaj.typepad.com
Nancy bauwmiller : crowabout.blogspot.com/
Kathryn wheel : http://thekathrynwheel.blogspot.com/
They all have a different style but i love each of them… They convince me that art journaling is the best way to express my art.
They all inspires me in different ways
What kind words of encouragement would you say to an Art Journal newbie?
Go…… and don't be afraid if your pages are beautiful or not…Just be yourself when creating and express your feelings through art….
In art journaling,it's not really important the way you create, the only important thing is that you feel good when creating .
And………don't create an art journal page for the others but JUST FOR YOU!!!!! Never mind if you don't receive many comments on your blog or if people don't understand what you're doing…….Just do it for you!!!
Where can we contact you…give us some link LOVE!
My blog : http://paper-art-by-nessa.blogspot.com
Flickr : http://www.flickr.com/photos/va-nessa/
My email : vanessa.colant@gmail.com
Short Bio:
My name is Vanessa but well known under the nickname of Nessa. I'm 30 and I'm the mum of 2 beautiful little guys : Matteo 5 years old and Mirko 3 years old. They are the sunshine of my live…I love my sons so much!!!
I live with my man here in Belgium and we are together for all our lives. Our love is such like the rainbow…. He always encourages me to go ahead.
I'm the owner of a craft shop in Belgium and this is the most wonderful job in the world.
I'm also a scrapbooking teacher here in Belgium and I wrote a book (kawaii scrapbooking ) and created a scrapbook paper collection.
You can learn more about my art bio (design team, publications….) here: http://paper-art-by-nessa.blogspot.com/p/bio.html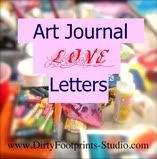 Art Journal LOVE Letters is on sale for $24.99 the entire month of July!Go HERE to register and join Art Journal LOVE's 1 year anniversary party!
Join The Paint Wisdom Newsletter!
My weekly newsletter is filled with studio updates,
announcements,& short musings intended to nourish your Artist Soul.