30 Journals 30 Days: PAULA PHILLIPS
Published on July 17, 2010
How long have you been Art Journaling?
Just as July is a celebration for the beautiful Connie of Dirty Footprints Studio, it marks an important anniversary for me as well. One year ago I pushed away fears of not being an artist and created my first art journal page. See, I have been "crafty" all my life, but believing that I "couldn't" draw I shied away from art classes and art for many years. To fulfill my need to create I started scrapbooking in my late teens. I still enjoy all paper arts, but after that first art journal page, I was hooked.
How has Art Journaling impacted, changed, or enhanced your life?
Followers of my blog, or those that read my journal pages know that I suffer from anxiety. I use layers of paint, ink, paper and ephemera to release these irrational thoughts from my head. Not only have I grown artistically, art journaling has enabled me to heal mentally. Recently I fractured my ankle in three places and was forced to spend a month on the couch. I turned to my love of art journaling to transform such an ugly injury into a journey that has changed and enriched my life. Art from the couch has launched me into this beautiful, warm, creative community that I feel truly blessed to be a part of.
What are a few of your favorite Art Journaling materials to use?
Due to my love of all paper arts I enjoy using my "retro" scrapbook supplies in my art journals. I tend to use a lot of rubber stamps, acrylic paints, ink and stencils. I love to create with whatever supplies are on my table at the time, challenging myself to try new things. Check out my "must have" supply videos here and here.
Who are some of your favorite Art Journalers?
This past year has opened my eyes in many ways. By following the wonderful art and videos of wonderful artists like Leslie Herger,Samantha Kira, Traci Bautista , Mystele, and Connie I gained knowledge and confidence to find my own style. It took me the better part of a year to believe, finally, that I am an artist.
What kind words of encouragement would you say to an Art Journal newbie?
I can relate to all those out there that feel the urge to create but are too scared to start. I understand those that feel they are not "artists" yet desire to start playing with paint. I believe that we are all creative inside. Find a book, gather the supplies you have and just start. If that means you are adding doodles to your words, that's great. Start small if that's what you need to do. You will learn, you will grow, you will enrich your life.
Where can we contact you…give us some link LOVE!
To see more of my work and tutorials you can find me at:
http://www.flickr.com/photos/sadiepaula78/
You can also watch me LIVE every Wednesday night at 9:30pm EST at:
http://www.ustream.tv/channel/journalartista
Videos Starring Paula:
Short Bio:
My name is Paula, also known as Journal Artista. I am 31, live in Toronto, Ontario and am a box maker during the day.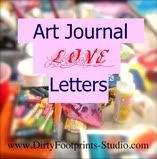 Art Journal LOVE Letters is on sale for $24.99 the entire month of July!Go HERE to register and join Art Journal LOVE's 1 year anniversary party!
Join The Paint Wisdom Newsletter!
My weekly newsletter is filled with studio updates,
announcements,& short musings intended to nourish your Artist Soul.