30 Journals 30 Days: SPOOKY
Published on July 11, 2010
How long have you been art journaling?
Well, during my teen years I was a bit of a collage freak, but I didn't get into actual art journaling until recently. I actually know the exact date I started my first art journal–November 4, 2009 (I dated the page).
How has Art Journaling impacted, changed, or enhanced your life?
Wow, it has changed my life so much! I was pretty bored and burnt out on my job when I started my art journal. If you've ever worked in retail during the holidays, you know how I felt. But once I started making creativity a part of my daily life, I immediately felt so much happier! I began to love art journaling so much that I wanted to tell the world about it! So, in January 2010 I started my blog and it's been going strong ever since.
What are a few of your favorite Art Journaling materials to use?
GESSO! One thing I learned from Art Journal Love Letters is that there are two kinds of art journalers: gel medium freaks and gesso freaks. I am the latter. Gotta have my gesso! I also love cheap acrylic paint, watercolor, origami paper, water-soluble oil pastels, old book pages, stencils, and tissue paper.
Who are some of your favorite Art Journalers?
Natalie Malik–http://awkwardnbeautiful.blogspot.com/
Kim Smith–http://artequalshappy.typepad.com/
iHanna–http://www.ihanna.nu/blog/
and, of course, Connie! Art Journal Love Letters is awesome and you should join if you haven't already!
What kind words of encouragement would you offer to art journal newbies?
I don't think a lot of new art journalers realize that you don't have to make a pretty page every time. Art journaling is all about the process. Play around, learn new things. If you hate the end result, you can always gesso over it and start again tomorrow. Don't be afraid to make bad art! Oh, and do visit my blog where you can learn how to find all sorts of cheap art supplies, plus plenty of ideas on how to use them.
Where can we contact you…give us some Link LOVE.
my blog is: http://thepaperphantom.wordpress.com/
facebook: http://www.facebook.com/pages/Nurture-Your-Spark-Exploring-Art-Journaling-and-Creativity/326799318962?v=wall
on flickr: http://www.flickr.com/photos/spookypaperdoll/
twitter: http://twitter.com/spookyspark (but I don't tweet that much)
and my new etsy shop is: http://www.etsy.com/shop/sparkpress I make Art Journals!
Video Starring Spooky:
Short Bio:
My real name is Ashley, but online I mostly use my nickname–Spooky. I'm 26 and live in Southeast Missouri with my husband, two cats, and a rabbit. By day I sell cell phones, but by night I'm an art journal mad scientist! Mmwuahaha*cough*, um, still practicing my mad scientist laugh.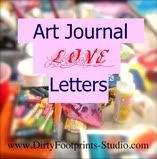 Art Journal LOVE Letters is on sale for $24.99 the entire month of July!Go HERE to register and join Art Journal LOVE's 1 year anniversary party!
Join The Paint Wisdom Newsletter!
My weekly newsletter is filled with studio updates,
announcements,& short musings intended to nourish your Artist Soul.