Published on April 3, 2010
I'm happy. I'm excited. Good things are happening! And I have some fun stuff to share with YOU!
Tomorrow the spankin' brand new, shiny, fabulouso
Art Journal LOVE Letter
s is opening in it's permanent home. That means….no more closed registration—all go-at-your-own-pace kind of Art Journal LOVEn and this time…there's a few new goodies and a whole new look!! So–are you in for some Art Journal LOVE?!?!
In the spirit of Easter–I'm extending the Early LOVE Bird Special of $32.40 until 11:00 pm EST Monday night!!! So after collecting all your Easter eggs and chompin' on chocolate bunny ears, come on over and fall in LOVE this spring with Art Journal LOVE Letters
HERE
.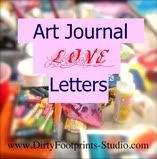 I am a HUGE fan of the Art Journaling group over at Ning.com! There are almost 400 members of talented, spirited, totally Creative Juicy Art Journalers there that are interested in sharing, learning, and having fun!! I have met some great chicas and I think the conversation is always lively and informative to Art Journaling. YOU HAVE TO JOIN!! And now–
anyone who is a member of ArtJournaling.ning is eligible to win a FREE spot in Art Journal LOVE Letters
!! All you have to do is go join
HERE
and leave a comment under the Art Journal LOVE Letters discussion. If you are already a member–perfecto!! You can join as well! This little LOVEfest will be going on until midnight NEXT Saturday!! AANNND–if you are already registered for Art Journal LOVE Letters–you can still enter, if you win–I'll reimburse your registration fee!
So please, spread the word–Art Journalers of the world unite!!
Big hugs!
Join The Paint Wisdom Newsletter!
My weekly newsletter is filled with studio updates,
announcements,& short musings intended to nourish your Artist Soul.