30 Journals 30 Days: MARIZA
Published on July 6, 2010
How long have you been Art Journaling?
I have been art journaling for about 3 years, but I have kept "standard" journals for over 10. You can actually check out my transition from written to art journaling on my blog post A Decade of Journals.
How has Art Journaling impacted, changed, or enhanced your life?
Like written journaling, art journaling gives me an outlet, a place to reflect, and encourages me to be more observant and curious.
As for art journaling in particular: I think many of us deny ourselves "art" as a creative outlet because it's only for certain people – in my case, I wasn't ever "allowed" to do it because I can't really draw. I've always been into writing and bookmaking (as well as a million other "craft" things) but finally allowing myself to paint and draw like I've always wanted to has really opened me up. Fighting these little battles in your journal really does spill out into the rest of your life – it may take some time to build but letting yourself BE yourself in a little corner of your life will eventually spread to the rest of it. At the risk of sounding like an infomercial, I'm generally happier, more creative and more myself. As if that wasn't enough, it's given me an excuse to join a great online community of fellow journalers!
What are a few of your favorite Art Journaling materials to use?
I go through phases, but my standbys are the cheap craft paints and markers (particularly sharpies) or pens.
Who are some of your favorite Art Journalers?
Zom: http://pinchmetoseeifyouaredreaming.blogspot.com/
Mary:http://joyfulploys.wordpress.com/
Monica:http://bohemianshadows.blogspot.com/
Paula:http://www.messymindcreativesoul.blogspot.com/
Of course there are more but we don't need to be here all day. 😉
What kind words of encouragement would you say to an Art Journal newbie?
I see a lot of people freaking out about doing things the "right" way which I think is interesting. A journal is a totally private place (unless, um, you post videos of it on the internet….but that's optional!) and is by definition a place to explore and get to know yourself. It sounds cliche but there really is no right or wrong – just try things, anything. That includes rubbing dirt on your journal, if you feel like it. Or licking it (but maybe do that BEFORE rubbing the dirt on it). There is no failure, only learning. Enjoy the process and the adventure of finding yourself and your style. Have fun!
Where can we contact you…give us some link LOVE!
You can check out my blog:http://marizateria.com, or find me on twitter @marizateria.
Short Bio:
Mariza has dabbled in arts n' crafts for pretty much as long as she can remember but only relatively recently joined the magical world of art journaling. She semi-regularly posts art journaling videos on youtube and enjoys discussing art and creativity on her blog.
Videos Starring Mariza: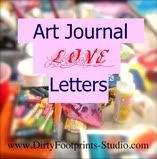 Art Journal LOVE Letters is on sale for $24.99 the entire month of July!Go HERE to register and join Art Journal LOVE's 1 year anniversary party!
Join The Paint Wisdom Newsletter!
My weekly newsletter is filled with studio updates,
announcements,& short musings intended to nourish your Artist Soul.