30 Journals 30 Days: PAM CARRIKER
Published on July 7, 2010
How long have you been Art Journaling?
I started journaling in 2007. I've attached my very first page. I'd been doing altered books for quite awhile before that, but this was my first official Art Journal.
How has Art Journaling impacted, changed, or enhanced your life?
Omgosh, it has been such a wonderful tool in my art and personal life. It really brings the two together; where my two worlds meet. I can look back at how my art has evolved and revisit old techniques, pour out my feelings and cover them up again, or practice, practice, practice something I want to learn such as portraits. My life is very busy right now and often journaling is the only form of creating I can work in that's just for me.
What are a few of your favorite Art Journaling materials to use?
Acrylic paint, charcoal, white gel pen, graphite pencil, conte crayons
Who are some of your favorite Art Journalers?
Misty Mawn
What kind words of encouragement would you say to an Art Journal newbie?
Not to overly worry about what your pages look like. Journaling is a process, a way to discover true creativity, not just an attempt to produce a perfect page. When you truly let go of perfectionism and create for the sheer joy of playing with your art tools you'll discover what art journaling is all about.
Where can we contact you…give us some link LOVE!
www.pamcarriker.com
Facebook
Twitter
email pcarrikersart@yahoo.com
Short Bio:
A life-long art lover, I was raised in the Pacific Northwest. I'm a mom to three wonderful boys, one serving our country, one off to college, one still tucked safely under my wing, and married to a flyboy with a passion for writing. Largely self-taught, my work is reflective of the more than 20 years of experience using a variety of mediums and has been published numerous times in Somerset Studios, The Stampers' Sampler, Art Journaling, Somerset Apprentice, and Cloth Paper Scissors and I serve in the Directors Circle for Stampington & Co. I teach both online and live workshops, and I'm currently writing my first book due out 2011 with Interweave Press, featuring projects and motivation for being creative every day.
Videos Starring Pam Carriker: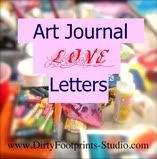 Art Journal LOVE Letters is on sale for $24.99 the entire month of July!Go HERE to register and join Art Journal LOVE's 1 year anniversary party!
Join The Paint Wisdom Newsletter!
My weekly newsletter is filled with studio updates,
announcements,& short musings intended to nourish your Artist Soul.